Recherche von Sotto: Lebanon
Input von Sandro:
18 Flight to Beirut / Evening in Beirut / Sleep in Beirut (Sandro responsible, Hotel Alexandre)
19 Flight to Amman / Daytime in Amman / Flight to Aqaba / Transfer to Wadi Rum / Sleep in Wadi Rum (Zeno responsible)
20 Visit Wadi Rum / Transfer to Petra / Visit Petra / Sleep somewhere (Zeno responsible)
21 Transfer to Dead Sea / "Swim" in Dead Sea / Sleep somewhere (Zeno responsible)
22 Enter Syria / Visit Bosra / Transfer to Damascus / Sleep in Damascus (Pat responsible)
23 Visit Damascus / Transfer to Palmyra / Visit Palmyra / Sleep somewhere (Pat responsible)
24 Transfer to Aleppo / Visit Aleppo / Sleep somewhere (Pat responsible)
25 Transfer to Lebanon via visits in Apamea, Krak des Chevaliers, Tripoli / Sleep in Beirut (Sandro responsible, reservation at Movenpick) - Attach:Moevenpick_Resort.pdf
26 Visit Beirut / Visit Balbeek / Sleep in Beirut (Sandro responsible, reservation at Movenpick)
27 Visit Beirut / Visit Byblos / Swim in the Mediteranean at Byblos / Visit Cedar Woods / Sleep in Beirut (Sandro responsible, reservation at Movenpick)
28 Flight to Zurich
gestern habe ich mein buch *das erbe der welt* angeschaut und selbstverständlich L S J genauer unter die lupe genommen
hierzu möchte ich einige inputs liefern
jordanien jordanien ist vor allem mit petra in der UNESCO liste vertreten und wird in meinem buch mit einer doppelseite gewürdigt - ich sage nur petra ROCKS! die beiden anderen stätten in jordanien sind *um-er-rasas* und *quasir amra* (please check your maps, beide weiter nördlich). vor allem quasir amra wäre ein besuch wert auf dem weg nordwärts, nicht weil es sich hierbei um ein schlichtes wüstenschloss der omaijadn kalifen handelt, sondern weil es eine UNESCO würdige, verschwenderische innendekoration hat
syrien beim grenzübertritt nach syrien drängt sich ein kleiner katzensprung nach
bosra* auf (in bosra steht ein fabelhaftes, riesiges, römisches theater).
weitere UNESCO highlights in syrien (alle auf unserer route, thanks god!) sind damaskus, palmyra und aleppo (mittelalterliche zitadelle)
libanon leute, dass wir den fahrer die beiden letzten tage auch noch habe ist gold wert ... danke dass ihr mich überzeugt habt in dieser sache gestern. in libanon haben wir 4 wahnsinnig schöne sites zu besichtigen (alle in einem umkreis von 80 km) - *wadi qadisha mit arz el-rab*, *balbeek*, *byblos* und
anjar*. arz el-rab steht für den wald der libanonzedern und ich denke ein
trip nach libanon ohne die berühmten zedern gesehen und gerochen zu haben wäre unverantwortbar. weiter war balbeek als heliopolis bekannt was soviel bedeut wie sonnenstadt und es hat ausgrabungen dort die einem den atem stehlen. weiter sind byblos und anjar sehr schöne antike, gut erhaltene stätten. in byblos könnten wir auch noch im meer schwimmen.
ich hoffe, das wir vor allem quasir amra (jordanien), bosra (syrien), die zedernwälder (libanon) und balbeek (libanon) zusammen besichtigen werden
baalbek = römische tempelanlage, bachus tempel, monolith
château musar = einer der besten libanesischen weinhersteller
byblos = phönizischer hafen
tyre = römische ausgrabungen, hippodrom (a must!!!)
Hier sind ein paar sehr hilfreiche Adressen von Beirut, wobei ich anfügen muss, dass ich einige der Läden dort nicht kenne, da diese nach meiner Zeit in Beirut aufgemacht haben... Ich denke , dass er die " Corniche", die beim Hotel Carlton im Stadtteil Rausche beginnende Uferregion (reicht bis in die Nähe des Hotel und Yachtclubs St.george im Stadtteil Ain em-Mraisse) abklappern soll.
Nähere Infos unter:
Wenn er kann, soll er die weltberühmte römische Tempelanlage in Baalbek im Bekaa Tal besuchen, dort gibt neben dem besten Haschich einen hervorragenden Roten, der den Besuch lohnt. Vielleicht noch die Hafenstadt Saida mit Besichtigung der Altstadt von Saida, Kreuzritterburg, Karawanserei, Souk etc...
Recherche von Sandro: Stadt Beirut
Flüge: Das beste Angebot ist mit Lufthansa (Miles & More Karte besorgen!) über Frankfurt. Gute Zeiten! Wir fliegen gleich am Freitag abend ab und sind total spät (02.00) dann in BEY.
Rückflug dann sehr früh am Morgen.

Beirutbildli

Lebanonbildli
Flugdetails
>>>
18.3.2005, Air France 0735 Zürich Paris
18.3.2005, Air France 1025 Paris Beirut
<<<
28.3.2005, Air France 0805 Paris Beirut
28.3.2005, Air France 1300 Paris Zürich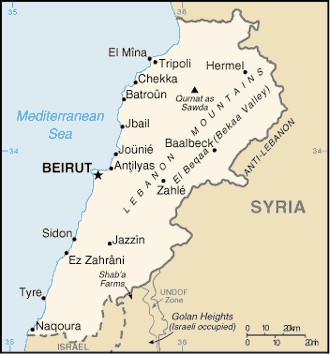 Ouadi Qadisha (the Holy Valley) and the Forest of the Cedars of God (Horsh Arz el-Rab): The Qadisha valley is one of the most important early Christian monastic settlements in the world. Its monasteries, many of which are of a great age, ...
Tyre: According to legend, purple dye was invented in Tyre. This great Phoenician city ruled the seas and founded prosperous colonies such as Cadiz and Cart...
Byblos: The ruins of many successive civilizations are found at Byblos, one of the oldest Phoenician cities. Inhabited since Neolithic times, it has been clos...
Baalbek: This Phoenician city, where a triad of deities was worshipped, was known as Heliopolis during the Hellenistic period. It retained its religious functi...
Anjar: The city of Anjar was founded by Caliph Walid I at the beginning of the 8th century. The ruins reveal a very regular layout, reminiscent of the palace...
Recherche von Zeno: Jordanien
Input von Pat: Urlaubsreisekarte-Amazon-Link
Input von Matthias: In Jordanien, gibts die freundlichsten Araber und nur schon deshalb ist das Land eine Reise wert. Amman hat nicht wahnsinnig viel zu bieten ausser super Shish Kebab. Das Wadi Rum und Petra sind die Higlights. Aqaba am Roten Meer gefällt mir selber sehr gut, weil ich dort gelernt habe zu tauchen.
Some Wikipedia facts about Jordan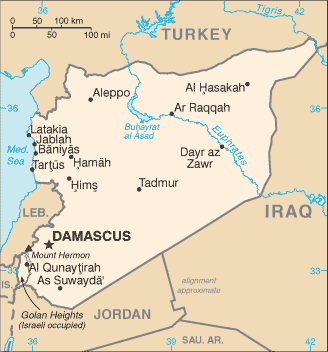 Karte von Syrien, CIA World Factbook.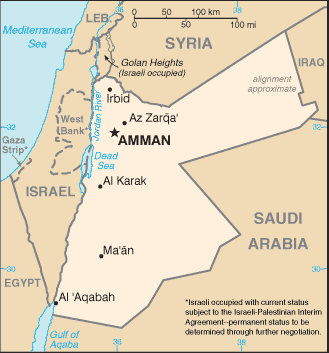 Karte von Jordanien, CIA World Factbook.
Recherche von Pat: Syrien
Als interessante Grundlagenlektüre zu den zu bereisenden Ländern sende ich untenstehend die Reisehinweise des EDA:
Visa sollten wir wohl schon frühzeitig besorgen. Dauert oft 6-8 Wochen und Pässe sind dann blockiert. Ich brauche meinen Pass z. B. nicht im Januar. Hier Link mit den Botschaften
Desweitern ist es mir eine grosse Ehre an dieser Stelle kurz mein Gastland Syrien vorzustellen!
Country profile: Syria Once the centre of the Islamic Empire, Syria covers an area that has seen invasions and occupations over the ages by almost all the great powers that have been established in the region, from Romans and Mongols to Crusaders and Turks.
A country of fertile plains, mountain ranges and deserts, Syria is home to many diverse ethnic and religious groups, including Kurds, Armenians, Assyrians, Alawite Shias and Druze, as well as the Arab Sunnis who make up a majority of the Muslim population.
Modern Syria gained its independence from France in 1946 but has lived through periods of political instability due largely to the conflicting interests of the various groups in society. For a brief time (1958-61) the country united with Nasser's Egypt, but an army coup restored independence before the Alawite-controlled pan-Arab Baath (Renaissance) party took control in 1963. It still rules the country today.
Baath government has been characterised by authoritarian rule at home and a strong anti-Israeli policy abroad, particularly under former President Hafez al-Assad. In 1967 Syria lost the Golan Heights to the Israelis, while civil war in neighbouring Lebanon allowed it to extend its influence in the region. The government has dealt harshly with any opposition. Thousands are thought to have been killed in the crackdown on the 1982 uprising of the Muslim Brotherhood in Hama.
Since the death of Hafez al-Assad, Syria has undergone a degree of relaxation, which has seen dozens of political prisoners released.
Population: 18.2 million (UN, 2004) Capital: Damascus Area: 185,180 sq km (71,498 sq miles) Major language: Arabic Major religion: Islam Life expectancy: 70 years (men), 73 years (women) (UN) Monetary unit: 1 Syrian pound = 100 piastres Main exports: Oil, gas GNI per capita: US $1,130 (World Bank, 2002) Internet domain: .sy International dialling code: +963
President: Bashar al-Assad Bashar replaced his father Hafez al-Assad soon after his death on 10 June 2000.
Bashar was catapulted into politics in 1994 by the death in a car crash of his older brother Basil, who was being groomed for the presidency. His modernising credentials have been bolstered by his role in a domestic anti-corruption drive. He studied to become an eye doctor in Damascus and London but joined the military after his brother's death, and was promoted to colonel in 1999.
He is head of the Baath party and the army.
Vice-presidents: Muhammad Zuhayr Mashariqah and Abd-al-Halim Khaddam Prime minister: Mohammed Naji al-Otari
The government and Baath Party own and control most of Syria's print and broadcast media. Criticism of the president and his family is not permitted and the domestic and foreign press are censored for material deemed threatening or embarrassing to the government.
Syria enjoyed a brief flowering of press freedom after Bashar al-Assad became president in 2000 and oversaw the licensing of the first private publications in almost 40 years. There was a modest proliferation of new titles, including three party papers, two private papers and a satirical publication.
But a subsequent press law imposed a range of restrictions. Publications were required to obtain licences from the prime minister and could be suspended for violating content bans.
Many viewers have access to foreign television broadcasts as well as the three state-run networks. The use of satellite receivers is permitted.
In 2002 the government set out conditions for licensing private, commercial FM radio stations. But it ruled that the stations could not broadcast news or political content.
The press:
Al-Baath - Baath Party paper Al-Thawra - government daily Tishrin - daily Syria Times - English-language Television:
Syrian TV - state-run, operates domestic channels and satellite service, broadcasting in Arabic, English and French Radio:
Syrian Arab Republic Radio - state-run Radio Damascus - state-run external service, broadcasts in several languages including English News agency:
Syrian Arab News Agency (SANA) provides general news services in Arabic, English and French Internet: By 2002 Syria had around 220,000 internet users (ITU figure). Websites deemed offensive or anti-Syrian are banned by the government.
Story from BBC NEWS Published: 2004/08/11 15:32:14 GMT © BBC MMIV